Black History Month
Entries are flooding in from school students in Haringey, north London, for the 'Make a Memorial to Oliver Tambo' competition. Students were asked to submit a piece of artwork or writing celebrating the centenary of the birth of ANC leader Oliver Tambo in October. Tambo's family lived in Haringey during their exile from South Africa.The competition is organised by Park View School in partnership with the AAM Archives Committee and Action for Southern Africa (ACTSA), with support from Brand South Africa.

The competition was launched at an assembly at Heartlands school on 2 October, with Lela Kogbara of ACTSA giving a presentation to students about the fight against apartheid. The schools theme for Black History Month 2017 is to identify people who have made a significant contribution to history but are not recognised. Almost all the students had heard of Nelson Mandela, very few had heard of apartheid and none had heard of Oliver Tambo. So this competition addresses their Black History Month theme perfectly and one student said that she has been inspired to write a poem.
There will be prizes for three age ranges:
Key stage 2 primary school pupils: ages 7–11

Key stage 3 secondary school students: ages 11–14

Key stage 4 and 5 secondary/sixth-form/college students: ages 14–18

The memorial could be:

a painting, drawing, frieze, wall-hanging, textile picture or bust

a speech, poem or article

a photo essay or very short film about Oliver Tambo's life or key themes emerging from a study of him

plans and publicity for a memorial event such as a festival or conference with features inspired by Oliver Tambo's life and work

a webpage or magazine dedicated to Oliver Tambo
Competition entries

The competition judges were especially interested in how students linked Oliver Tambo's personal or political story to their own lives. They were asked to explore a key theme such as living as a refugee in exile, links to local struggles for social justice today, the part played by international solidarity in ending apartheid or what lessons it has for us today. Many of the entries met this brief – one with a moving account of the student's own experience of exile and others describing how they had been inspired by finding out about Tambo's commitment to peace and human solidarity. The entries included paintings, websites, poems and sculpture, some of a very high standard.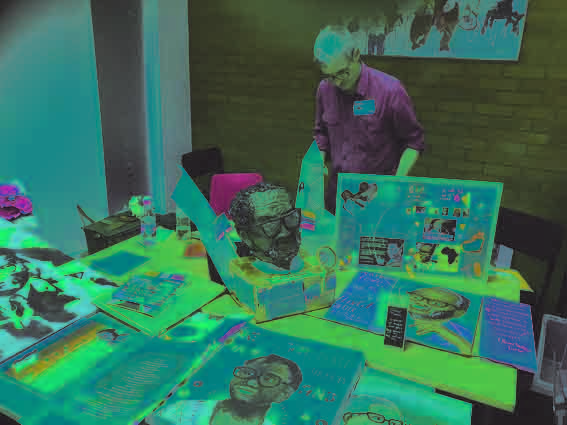 Winning a prize
The prize for the winning entry for each age category is £100; other prizes include a visit to the Houses of Parliament, hosted by local Tottenham MP David Lammy. Schools and colleges submitting their students' entries will be notified of winners and runners up by 5pm Monday 30 October. The prizes will be presented at a celebration event from 11.40–1pm on Thursday 2 November at Park View School, attended by former anti-apartheid activist and Cabinet member Lord Peter Hain, Tottenham MP David Lammy and the Leader of Haringey Council, Claire Kober. All prizewinners, their teachers and family members will be welcome. The winning entries will be displayed at Park View School on the day and at other prominent venues.
Students drew on the following resource links to find out more about Oliver Tambo:
Major exhibition about Oliver Tambo from the Apartheid Museum, Johannesburg:
https://www.apartheidmuseum.org/oliver-reginald-tambo
Photo exhibition about Oliver Tambo's role in building the global anti-apartheid movement:
www.aamarchives.org
(click 'Oliver Tambo – Building the Global Anti-Apartheid Movement' under 'Borrow an Exhibition')
Oliver Tambo interview on YouTube where he discusses his life under apartheid, and his political career (23 minutes):
https://www.youtube.com/watch?v=jDWdWVgTLu4
Newspaper profile of Oliver Tambo, with a focus on his life in exile in Muswell Hill, Haringey:
http://www.independent.co.uk/news/people/profiles/oliver-tambo-the-exile-394806.html
Two short accessible summaries of the life of Oliver Tambo from the Biography.com and 'History in an hour' websites:
https://www.biography.com/people/oliver-tambo-9501703
http://www.historyinanhour.com/2012/10/27/oliver-tambo-a-summary/
More detailed biography of Oliver Tambo 'His life and legacy' from South African History online:
http://www.sahistory.org.za/archive/his-life-and-legacy-oliver-tambo
For more information about the competition please contact: Tim Spafford: This email address is being protected from spambots. You need JavaScript enabled to view it.
For more information about Black History Month 2017, visit www.blackhistorymonth.org.uk