int41a2. Richard Caborn interview clip 2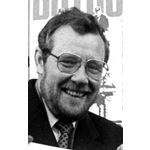 Richard Caborn was the Labour MP for Sheffield Central, 1983–2010, and Minister for Sport, 2001–2007. He joined the Anti-Apartheid Movement when he was a trade union official in the 1970s and was a founder member of Sheffield Anti-Apartheid Group. He served as the Anti-Apartheid Movement's national Treasurer, 1989–1994. In 1984 he became Secretary of the all-party parliamentary group on Southern Africa.
In this clip Richard Caborn compares the reluctance of House of Commons officials to allow Nelson Mandela to speak in the House of Commons in April 1990 with the welcome he received as President of South Africa in 1996.
| | |
| --- | --- |
| Category: | Richard Caborn |
| Copyright: | AAM Archives Committee |
| Holding Institution: | AAM Archive, Bodleian Library |