Women played a special part in the Anti-Apartheid Movement. They highlighted the ways in which black women in Southern Africa were doubly oppressed – as black people and as women. They campaigned for women throughout the Southern African region, in Zimbabwe, Namibia and the front-line states, as well as in South Africa.
POLITICAL PRISONERS
They called for the release of women political prisoners and collected medical equipment and toiletries for refugees and freedom fighters in SWAPO and ANC camps in Angola. They raised funds for educational materials for the ANC's Solomon Mahlangu Freedom School and crèche in Tanzania.
Women were active in the boycott campaign – asking shoppers not to buy South African fruit and clothing. In 1985, as the result of a women's campaign, the Next fashion chain cancelled its contract with South Africa.
SOUTH AFRICA EXPELLED FROM IPPF
From 1980 the AAM Women's Committee made links with British women's groups, organising special dayschools and workshops. It exposed the use of the controversial contraceptive depo-provera in South Africa and after a three-year campaign, together with the AA Health Committee, forced South Africa to resign from the International Planned Parenthood Federation in 1987.
The Committee worked closely with the ANC Women's Section in London and the SWAPO Women's Solidarity Committee. It produced a regular women's newsletter.
VOICE FOR WOMEN
Women also worked to give women a stronger voice within the wider AAM – making sure that women had a role in policy-making and that platforms were not male-dominated.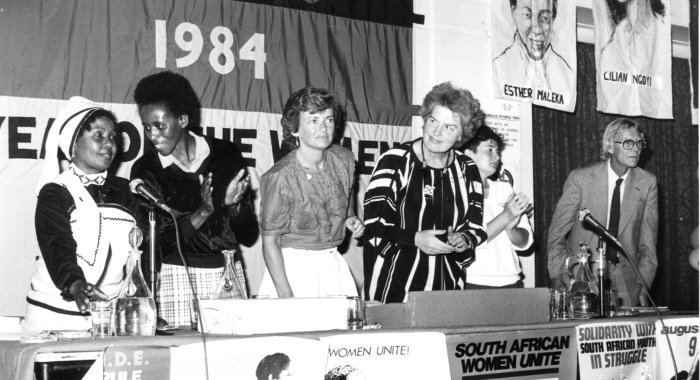 ANC 'Year of the Women' meeting. South Africa Women's Day was marked by a packed meeting in Hackney Town Hall on 9 August 1984. The meeting was organised by the ANC's London Women's Committee. In the picture (l. to r.) are ANC Women's Section representatives Florence Maleka and Felicia Mzamo, Glenys Kinnock. and Labour MP Joan Lestor 1984 was designated the Year of the Women by the African National Congress.
CLICK HERE FOR WOMEN AGAINST APARTHEID DOCUMENTS & PICTURES