In 1975 Angola and Mozambique won independence from Portugal. Zimbabwe achieved majority rule in 1980. Together with Botswana, Zambia and Tanzania these countries became known as the frontline states. South Africa was ringed by black majority governments on its northern border. The prospects for liberation seemed transformed.
But South Africa attacked its northern neighbours and destabilised their economies. It mounted raids on Botswana, Zambia, Zimbabwe and Mozambique, killing local residents and South African refugees.
CIVIL WAR IN MOZAMBIQUE AND ANGOLA
South Africa fomented civil war in Mozambique and Angola, destroying their infrastructure and causing huge loss of life. It provided weapons and logistical support to the dissident group RENAMO, which terrorised civilians over wide areas of Mozambique.
In Angola it launched repeated invasions with the aim of overthrowing the MPLA government. It helped the rebel movement UNITA carry on a prolonged civil war which only ended with the death of UNITA leader Jonas Savimbi in 2002. At least half a million people died in the war. Millions were displaced and the country's economy was devastated.
SUPPORT FOR THE FRONTLINE STATES
Together with the Mozambique Angola and Guine Information Centre (MAGIC) and the Mozambique Angola Committee (MAC), the Anti-Apartheid Movement campaigned for practical support for the frontline states. It worked with the Namibia Support Committee to raise funds for Namibian refugees attacked by South African armed forces in Angola. It gave a platform to leaders like the future President of Mozambique, Armando Guebuza, and Education Minister Graça Machel. When UNITA refused to accept the result of the 1992 election in Angola, the AAM campaigned to raise awareness in Britain and the international community of 'the world's forgotten war'.
SANCTIONS AGAINST SOUTH AFRICA
The AAM argued that the best way to support the frontline states was to campaign for international sanctions against South Africa. Ultimately, the frontline states would only be able to achieve peace and economic development after apartheid had been overthrown.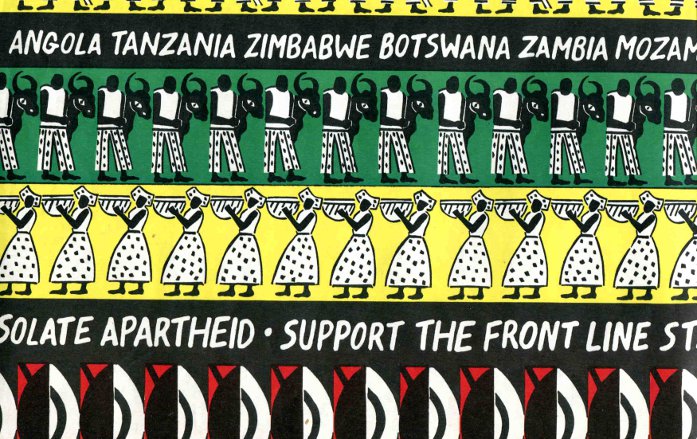 Wrapping paper produced by the workers cooperative AA Enterprises.
CLICK HERE FOR FRONTLINE STATES DOCUMENTS AND PICTURES