A SPECIAL RESPONSIBILITY
From the early 1950s Britain's growing black community felt a special responsibility to help their brothers and sisters living under apartheid in South Africa. Black groups in Britain supported the peoples of Zimbabwe, Namibia, Angola and Mozambique fighting guerrilla wars against white minority regimes.
BRIXTON AND ST PAUL'S
Multi-racial communities like those in St Paul's, Bristol and Brixton, south London led the way in ensuring that supermarkets and local businesses had no links with South Africa. Black organisations worked for sanctions against apartheid by supporting AAM mass demonstrations and organising their own campaigns.
They helped stop the Springbok cricket tour in 1970 and mobilised protests against President P W Botha's visit to Britain in 1984. The black media counteracted the hostility of the mainstream press by publicising anti-apartheid activities.
BLACK SOLIDARITY COMMITTEE
In 1988 black activists in the Anti-Apartheid Movement set up a Black and Ethnic Minorities Committee, later renamed the Black Solidarity Committee. It raised funds for the liberation movements and looked forward to post-apartheid solidarity, finding practical ways in which the black diaspora could help the people of Southern Africa overcome the legacy of apartheid.
RACISM IN BRITAIN
It also looked at the role of black people within the Anti-Apartheid Movement and at the links between anti-apartheid solidarity and anti-racist action in Britain. The interrelation of action against British racism and against apartheid was an issue throughout the history of the AAM.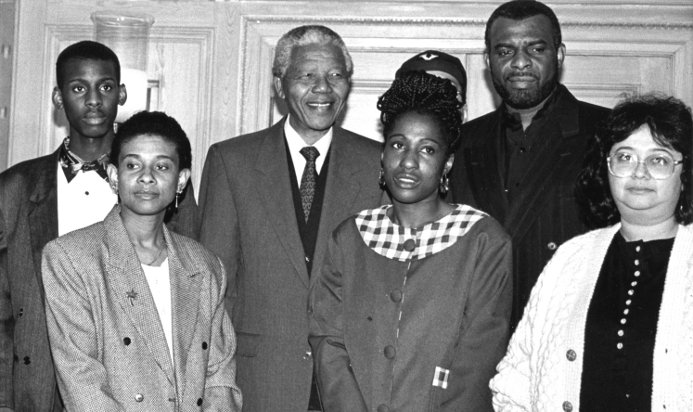 Nelson Mandela visited the family of murdered teenager Stephen Lawrence on his visit to London in May 1993. Stephen was stabbed to death by a white racist gang when he was waiting at a bus stop in Eltham, south-east London. Copyright © Andrew Wiard
CLICK HERE FOR BLACK SOLIDARITY DOCUMENTS & PICTURES