int15t. Christabel Gurney transcript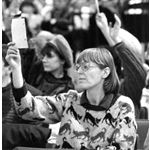 Christabel Gurney was active in the Anti-Apartheid Movement from 1969 to 1994. She joined the Anti-Apartheid Movement in the late 1960s and took part in demonstrations against the Springbok rugby and cricket tours in 1969-70. She was Secretary of the Dambusters Mobilising Committee, which gave rise to the campaign to persuade Barclays Bank to pull out of South Africa. She edited the AAM's monthly newspaper Anti-Apartheid News in the 1970s and was later secretary of Notting Hill Anti-Apartheid Group. More recently she has researched and written about the history of the AAM.
This is a complete transcript of an interview carried out as part of the 'Forward to Freedom' AAM history project in 2013.
| | |
| --- | --- |
| Category: | Christabel Gurney |
| Author: | AAM Archives Committee |
| Copyright: | AAM Archives Committee |
| Holding Institution: | AAM Archive, Bodleian Library |