int26t. Baroness Kinnock of Holyhead interview transcript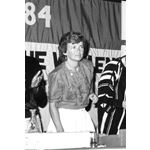 Glenys Kinnock became active in the Anti-Apartheid Movement as a student at Cardiff University. In the 1980s she spoke at numerous anti-apartheid meetings and conferences and played a central role in the 'Children & Apartheid' conference in Harare in 1987. She was MEP for Wales from 1994 to 2009 and served as Minister of State in the Foreign Office, 2009–10. She now sits in the House of Lords as Baroness Kinnock of Holyhead.
This is a complete transcript of an interview carried out as part of the 'Forward to Freedom' AAM history project in 2013.