int15a2. Christabel Gurney interview clip 2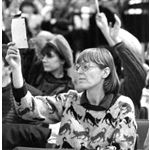 Christabel Gurney was active in the Anti-Apartheid Movement from 1969 to 1994. She edited the AAM's monthly newspaper Anti-Apartheid News in the 1970s and was later secretary of Notting Hill Anti-Apartheid Group. More recently she has researched and written about the history of the AAM.
In this clip she describes the atmosphere at the event in South Africa House held to celebrate the inauguration of Nelson Mandela as President in May 1994.
| | |
| --- | --- |
| Category: | Christabel Gurney |
| Author: | AAM Archives Committee |
| Copyright: | AAM Archives Committee |
| Holding Institution: | AAM Archive, Bodleian Library |