int34a2. Sir Geoffrey Bindman interview clip 2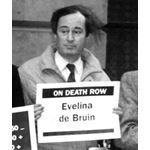 Sir Geoffrey Bindman is a lawyer and was Chair of Southern Africa the Imprisoned Society (SATIS ). SATIS publicised political trials, called for the release of those detained without trial and mobilised public opinion against the hanging of political prisoners.It campaigned for the release of thousands of anti-apartheid activists, including many children, detained under the States of Emergency imposed in the mid-1980s.
In this clip Sir Geoffrey describes the lesson he learnt from Trevor Huddleston never to give up in apparently hopeless campaigns.
| | |
| --- | --- |
| Category: | Sir Geoffrey Bindman |
| Copyright: | AAM Archives Committee |
| Holding Institution: | AAM Archive, Bodleian Library |